…that you made your way to Zurich to attend the NAG event for the first time at its new location in GZ Heuried.
The anticipation on our part was enormous and so was the excitement. We all did not really know how many supporters of the children's home were to be expected this year due to corona and the surprise was great that well over 100 people showed up.
A look at the fight against COVID-19 in NAG was the theme of this year's event and Nicole Thakuri-Wick impressively told us how NAG has dealt with all the challenges since the beginning of 2020, how the virus has affected NAG and that the crisis has also created a lot of positive things and new ideas. In the last six months, during which the hospitals were overcrowded and the Nepalese health system was at its limit, NAG was able to ensure access to medical aid for very many people, support over 4,000 families with food and provide access to virtual education in remote schools. At the same time, daily life continued at NAG, children were able to continue attending NAG's own school, concerts, theater performances, and art exhibitions were organized by NAGers for NAGers, shifting the focus away from COVID-19 to more joyful topics.
Some of the artwork created at the NAG was brought back to Switzerland from Nepal by Nicole and was exhibited by Andrew Gray during the event. Two have already been sold. The proceeds will be used to buy new materials for the art room at NAG and the artists will receive a salary for their work.
Following Nicole's presentation, we had the pleasure of bidding farewell to long-time Foundation Board member Heinz Sulzer. Heinz has supported and advised Nicole for many years in construction-related questions. Herewith again a huge thank you to Heinz Sulzer. We wish you much joy in your future projects and hope that you will stay connected to NAG.
Where there is a resignation, there is an entry and thus we were able to officially introduce our new foundation board member to everyone. Maja Hug is a pediatrician specializing in intensive care medicine and neonatology and therefore a great addition to our foundation board, which she enriches in an ideal way with her know-how.
Initially, a film tour through NAG had been planned for the event. But, since it did not fit thematically, Ohm, our director, decided to interview children and young people in the home. The result is an impressive documentary film in which they talk about whether COVID-19 also has had a positive impact on their lives.
https://www.youtube.com/watch?v=1CQlp5uyJTM
We thank everyone for coming to the event, for the generous support throughout the year, without which we would not be able to tell about all the great projects and stories. To the many volunteers, cake bakers, without whose time and effort this event would not be possible, we would like to express a huge THANK YOU!
The invitation card projected in the background and the finished artwork displayed
Our president Sophie Winkler and Nicole Thakuri-Wick are welcoming Maja Hug.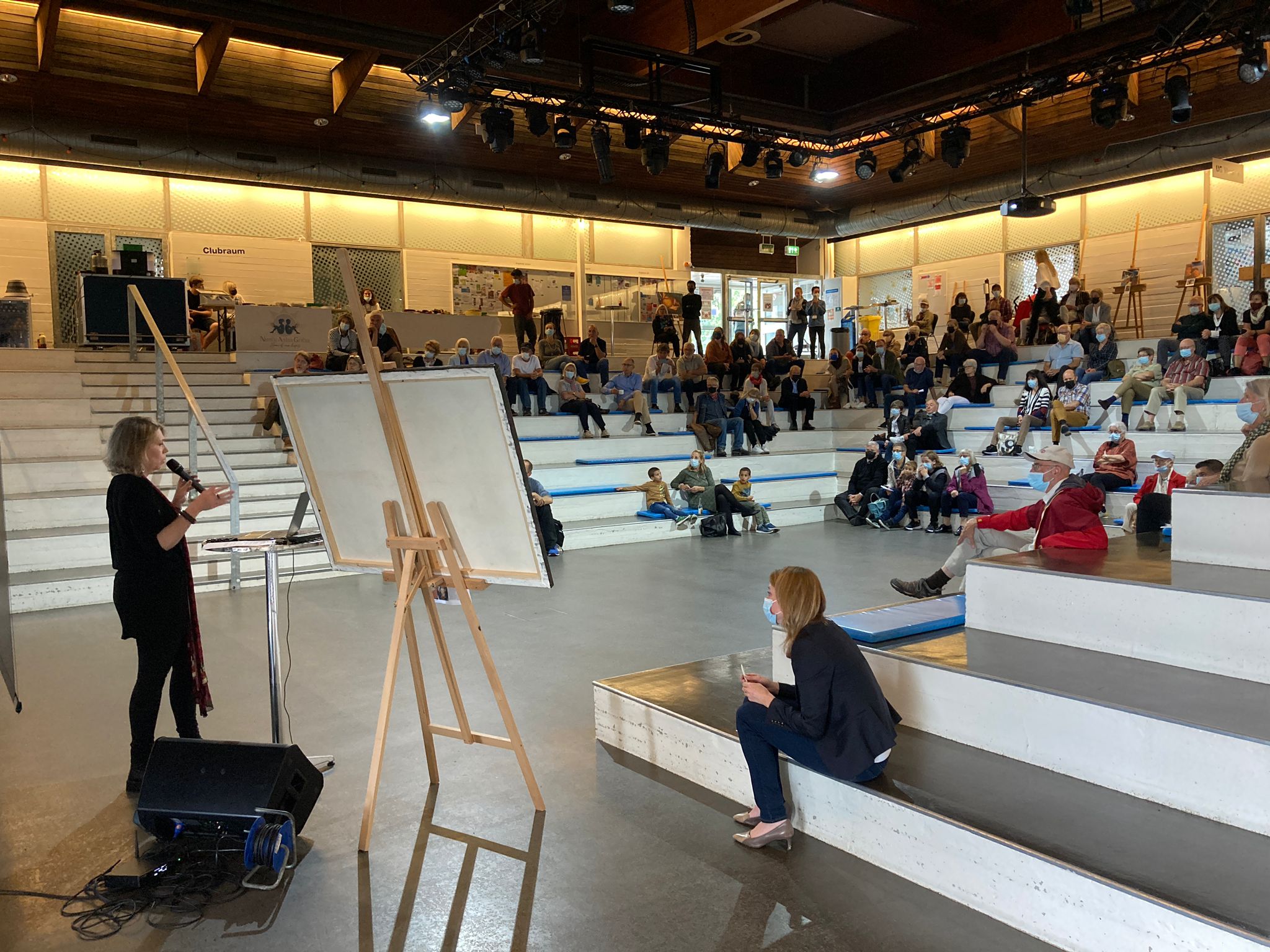 Our new location: the Atriuam at GZ Heuried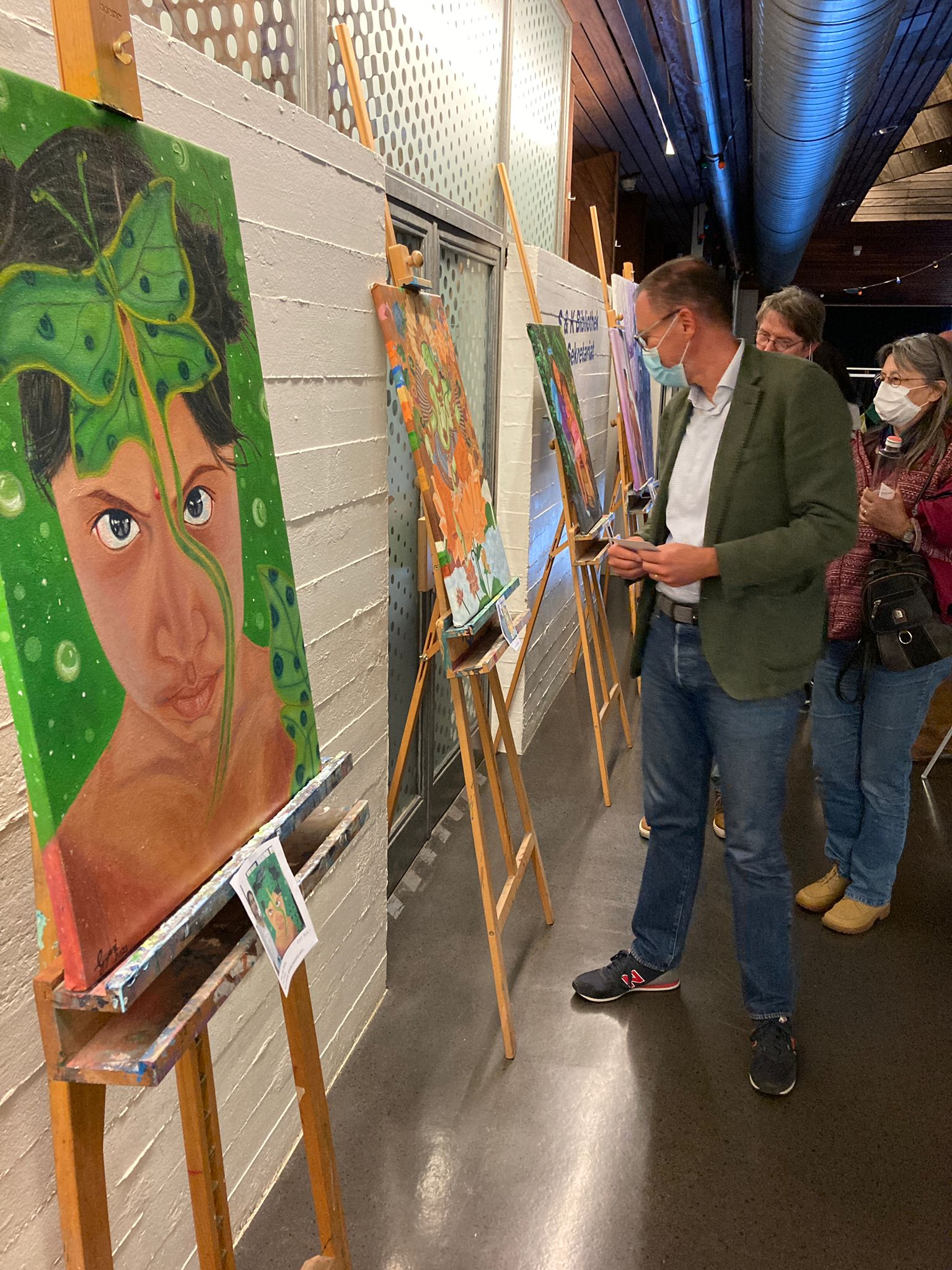 Insight into the small exhibition